Darwin Tree of Life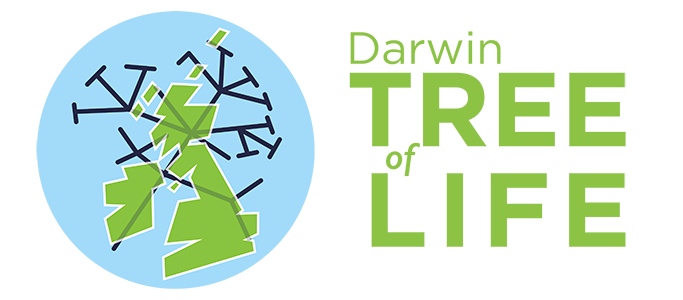 The Darwin Tree of Life project (DToL) aims to exploit long read technologies to sequence the genomes of all 60,000 species of eukaryotic organisms in Britain and Ireland. It is a collaboration between biodiversity, genomics and analysis partners that hopes to transform the way we do biology, conservation and biotechnology.
Darwin Tree of Life is a consortium of partners who will build and prove an end-to-end pipeline of sample collection, sequencing, genome assembly, annotation and data dissemination that can deliver this visionary project.
The consortium partners are currently calling on the community for input into which species should be prioritised for sequencing. You can offer suggestions here.
Ensembl is a partner in the Darwin Tree of Life project, and we annotate the protein-coding and non-coding RNA gene structures using re-engineered versions of our Gene Annotation System (Aken et al, 2017) optimised for vertebrates and for non-vertebrates. When a species lacks transrciptomic data, we run BRAKER2 to generate hint-guided ab initio gene predictions of protein-coding genes, in the default protein mode (see the blog post for more information). After QC, genomes and annotations are made available via our FTP site (see table below) before subsequently being made available in the Ensembl Genome Browser.
| Image | Species | Accession | Annotation method | Annotation | Proteins | Transcripts | Softmasked genome | Repeat library | Other data | View in browser | BUSCO completeness | Alternate haplotype |
| --- | --- | --- | --- | --- | --- | --- | --- | --- | --- | --- | --- | --- |
| | Abrostola tripartita | GCA_905340225.1 | Ensembl Genebuild | GTF, GFF3 | FASTA | FASTA | FASTA | Repeatmodeler | FTP dumps | rapid.ensembl.org | BUSCO | rapid.ensembl.org |
| | Acronicta aceris | GCA_910591435.1 | BRAKER2 | GTF, GFF3 | FASTA | FASTA | FASTA | Repeatmodeler | FTP dumps | rapid.ensembl.org | BUSCO | – |
| | Adalia bipunctata | GCA_910592335.1 | Ensembl Genebuild | GTF, GFF3 | FASTA | FASTA | FASTA | Repeatmodeler | FTP dumps | rapid.ensembl.org | BUSCO | rapid.ensembl.org |
| | Agriopis aurantiaria | GCA_914767915.1 | BRAKER2 | GTF, GFF3 | FASTA | FASTA | FASTA | Repeatmodeler | FTP dumps | rapid.ensembl.org | BUSCO | rapid.ensembl.org |
| | Agrochola circellaris | GCA_914767755.1 | BRAKER2 | GTF, GFF3 | FASTA | FASTA | FASTA | Repeatmodeler | FTP dumps | rapid.ensembl.org | BUSCO | rapid.ensembl.org |
| | Agrochola macilenta | GCA_916701695.1 | BRAKER2 | GTF, GFF3 | FASTA | FASTA | FASTA | Repeatmodeler | FTP dumps | rapid.ensembl.org | BUSCO | rapid.ensembl.org |
| | Amphipyra berbera | GCA_910594945.1 | Ensembl Genebuild | GTF, GFF3 | FASTA | FASTA | FASTA | Repeatmodeler | FTP dumps | rapid.ensembl.org | BUSCO | rapid.ensembl.org |
| | Amphipyra berbera | GCA_910594945.2 | Ensembl Genebuild | GTF, GFF3 | FASTA | FASTA | FASTA | Repeatmodeler | FTP dumps | rapid.ensembl.org | BUSCO | – |
| | Amphipyra tragopoginis | GCA_905220435.1 | Ensembl Genebuild | GTF, GFF3 | FASTA | FASTA | FASTA | Repeatmodeler | FTP dumps | rapid.ensembl.org | BUSCO | rapid.ensembl.org |
| | Ancistrocerus nigricornis | GCA_916049575.1 | Ensembl Genebuild | GTF, GFF3 | FASTA | FASTA | FASTA | Repeatmodeler | FTP dumps | rapid.ensembl.org | BUSCO | rapid.ensembl.org |
| | Andrena dorsata | GCA_929108735.1 | Ensembl Genebuild | GTF, GFF3 | FASTA | FASTA | FASTA | Repeatmodeler | FTP dumps | rapid.ensembl.org | BUSCO | rapid.ensembl.org |
| | Andrena haemorrhoa | GCA_910592295.1 | Ensembl Genebuild | GTF, GFF3 | FASTA | FASTA | FASTA | Repeatmodeler | FTP dumps | rapid.ensembl.org | BUSCO | rapid.ensembl.org |
| | Andrena minutula | GCA_929113495.1 | Ensembl Genebuild | GTF, GFF3 | FASTA | FASTA | FASTA | Repeatmodeler | FTP dumps | rapid.ensembl.org | BUSCO | rapid.ensembl.org |
| | Anoplius nigerrimus | GCA_914767735.1 | BRAKER2 | GTF, GFF3 | FASTA | FASTA | FASTA | Repeatmodeler | FTP dumps | rapid.ensembl.org | BUSCO | rapid.ensembl.org |
| | Anthocharis cardamines | GCA_905404175.1 | Ensembl Genebuild | GTF, GFF3 | FASTA | FASTA | FASTA | Repeatmodeler | FTP dumps | rapid.ensembl.org | BUSCO | rapid.ensembl.org |
| | Apamea monoglypha | GCA_911387795.2 | BRAKER2 | GTF, GFF3 | FASTA | FASTA | FASTA | Repeatmodeler | FTP dumps | rapid.ensembl.org | BUSCO | rapid.ensembl.org |
| | Aporia crataegi | GCA_912999735.1 | Ensembl Genebuild | GTF, GFF3 | FASTA | FASTA | FASTA | Repeatmodeler | FTP dumps | rapid.ensembl.org | BUSCO | rapid.ensembl.org |
| | Apotomis turbidana | GCA_905147355.2 | BRAKER2 | GTF, GFF3 | FASTA | FASTA | FASTA | Repeatmodeler | FTP dumps | rapid.ensembl.org | BUSCO | – |
| | Aquila chrysaetos chrysaetos | GCA_900496995.2 | Ensembl Genebuild | GTF, GFF3 | FASTA | FASTA | FASTA | Repeatmodeler | FTP dumps | ensembl.org | BUSCO | – |
| | Aricia agestis | GCA_905147365.1 | Ensembl Genebuild | GTF, GFF3 | FASTA | FASTA | FASTA | Repeatmodeler | FTP dumps | rapid.ensembl.org | BUSCO | – |
| | Arvicola amphibius | GCA_903992535.1 | Ensembl Genebuild | GTF, GFF3 | FASTA | FASTA | FASTA | Repeatmodeler | FTP dumps | rapid.ensembl.org | BUSCO | – |
| | Arvicola amphibius | GCA_903992535.2 | Ensembl Genebuild | GTF, GFF3 | FASTA | FASTA | FASTA | Repeatmodeler | FTP dumps | rapid.ensembl.org | – | – |
| | Asterias rubens | GCA_902459465.3 | Ensembl Genebuild | GTF, GFF3 | FASTA | FASTA | FASTA | Repeatmodeler | FTP dumps | rapid.ensembl.org | BUSCO | – |
| | Atethmia centrago | GCA_905333075.3 | BRAKER2 | GTF, GFF3 | FASTA | FASTA | FASTA | Repeatmodeler | FTP dumps | rapid.ensembl.org | BUSCO | – |
| | Athalia rosae | GCA_917208135.1 | Ensembl Genebuild | GTF, GFF3 | FASTA | FASTA | FASTA | Repeatmodeler | FTP dumps | rapid.ensembl.org | BUSCO | – |
| | Autographa pulchrina | GCA_905475315.1 | Ensembl Genebuild | GTF, GFF3 | FASTA | FASTA | FASTA | Repeatmodeler | FTP dumps | rapid.ensembl.org | BUSCO | rapid.ensembl.org |
| | Bellardia pandia | GCA_916048285.2 | BRAKER2 | GTF, GFF3 | FASTA | FASTA | FASTA | – | FTP dumps | rapid.ensembl.org | BUSCO | – |
| | Bembecia ichneumoniformis | GCA_910589475.1 | Ensembl Genebuild | GTF, GFF3 | FASTA | FASTA | FASTA | Repeatmodeler | FTP dumps | rapid.ensembl.org | BUSCO | rapid.ensembl.org |
| | Biston betularia | GCA_905404145.1 | Ensembl Genebuild | GTF, GFF3 | FASTA | FASTA | FASTA | Repeatmodeler | FTP dumps | rapid.ensembl.org | BUSCO | rapid.ensembl.org |
| | Biston betularia | GCA_905404145.2 | Ensembl Genebuild | GTF, GFF3 | FASTA | FASTA | FASTA | Repeatmodeler | FTP dumps | rapid.ensembl.org | BUSCO | – |
| | Blastobasis adustella | GCA_907269095.1 | Ensembl Genebuild | GTF, GFF3 | FASTA | FASTA | FASTA | Repeatmodeler | FTP dumps | rapid.ensembl.org | BUSCO | rapid.ensembl.org |
| | Blastobasis lacticolella | GCA_905147135.1 | Ensembl Genebuild | GTF, GFF3 | FASTA | FASTA | FASTA | Repeatmodeler | FTP dumps | rapid.ensembl.org | BUSCO | rapid.ensembl.org |
| | Boloria selene | GCA_905231865.2 | BRAKER2 | GTF, GFF3 | FASTA | FASTA | FASTA | Repeatmodeler | FTP dumps | rapid.ensembl.org | BUSCO | – |
| | Bombus campestris | GCA_905333015.1 | Ensembl Genebuild | GTF, GFF3 | FASTA | FASTA | FASTA | Repeatmodeler | FTP dumps | rapid.ensembl.org | BUSCO | – |
| | Bombus campestris | GCA_905333015.2 | Ensembl Genebuild | GTF, GFF3 | FASTA | FASTA | FASTA | Repeatmodeler | FTP dumps | rapid.ensembl.org | BUSCO | – |
| | Bombus hortorum | GCA_905332935.1 | Ensembl Genebuild | GTF, GFF3 | FASTA | FASTA | FASTA | Repeatmodeler | FTP dumps | rapid.ensembl.org | BUSCO | – |
| | Bombus hypnorum | GCA_911387925.1 | Ensembl Genebuild | GTF, GFF3 | FASTA | FASTA | FASTA | Repeatmodeler | FTP dumps | rapid.ensembl.org | BUSCO | – |
| | Bombus pascuorum | GCA_905332965.1 | Ensembl Genebuild | GTF, GFF3 | FASTA | FASTA | FASTA | Repeatmodeler | FTP dumps | rapid.ensembl.org | BUSCO | rapid.ensembl.org |
| | Bombus pratorum | GCA_930367275.1 | Ensembl Genebuild | GTF, GFF3 | FASTA | FASTA | FASTA | Repeatmodeler | FTP dumps | rapid.ensembl.org | BUSCO | rapid.ensembl.org |
| | Bombus sylvestris | GCA_911622165.1 | Ensembl Genebuild | GTF, GFF3 | FASTA | FASTA | FASTA | Repeatmodeler | FTP dumps | rapid.ensembl.org | BUSCO | – |
| | Bombus terrestris | GCA_000214255.1 | Ensembl Genebuild | GTF, GFF3 | FASTA | FASTA | FASTA | – | FTP dumps | rapid.ensembl.org | BUSCO | – |
| | Bombus terrestris | GCA_910591885.1 | Ensembl Genebuild | GTF, GFF3 | FASTA | FASTA | FASTA | Repeatmodeler | FTP dumps | rapid.ensembl.org | BUSCO | – |
| | Bombus terrestris | GCA_910591885.2 | Ensembl Genebuild | GTF, GFF3 | FASTA | FASTA | FASTA | Repeatmodeler | FTP dumps | rapid.ensembl.org | BUSCO | rapid.ensembl.org |
| | Bufo bufo | GCA_905171765.1 | Ensembl Genebuild | GTF, GFF3 | FASTA | FASTA | FASTA | Repeatmodeler | FTP dumps | rapid.ensembl.org | – | – |
| | Campaea margaritaria | GCA_912999815.1 | BRAKER2 | GTF, GFF3 | FASTA | FASTA | FASTA | Repeatmodeler | FTP dumps | rapid.ensembl.org | BUSCO | rapid.ensembl.org |
| | Canis lupus | GCA_905319855.2 | Ensembl Genebuild | GTF, GFF3 | FASTA | FASTA | FASTA | Repeatmodeler | FTP dumps | rapid.ensembl.org | BUSCO | – |
| | Cantharis rustica | GCA_911387805.1 | BRAKER2 | GTF, GFF3 | FASTA | FASTA | FASTA | Repeatmodeler | FTP dumps | rapid.ensembl.org | BUSCO | rapid.ensembl.org |
| | Carcina quercana | GCA_910589575.1 | BRAKER2 | GTF, GFF3 | FASTA | FASTA | FASTA | Repeatmodeler | FTP dumps | rapid.ensembl.org | BUSCO | – |
| | Celastrina argiolus | GCA_905187575.1 | Ensembl Genebuild | GTF, GFF3 | FASTA | FASTA | FASTA | Repeatmodeler | FTP dumps | rapid.ensembl.org | BUSCO | rapid.ensembl.org |
| | Cerceris rybyensis | GCA_910591515.1 | Ensembl Genebuild | GTF, GFF3 | FASTA | FASTA | FASTA | Repeatmodeler | FTP dumps | rapid.ensembl.org | BUSCO | – |
| | Cheilosia vulpina | GCA_916610125.1 | BRAKER2 | GTF, GFF3 | FASTA | FASTA | FASTA | Repeatmodeler | FTP dumps | rapid.ensembl.org | BUSCO | rapid.ensembl.org |
| | Chrysoteuchia culmella | GCA_910589605.1 | BRAKER2 | GTF, GFF3 | FASTA | FASTA | FASTA | Repeatmodeler | FTP dumps | rapid.ensembl.org | BUSCO | rapid.ensembl.org |
| | Chrysotoxum bicinctum | GCA_911387755.1 | Ensembl Genebuild | GTF, GFF3 | FASTA | FASTA | FASTA | Repeatmodeler | FTP dumps | rapid.ensembl.org | BUSCO | rapid.ensembl.org |
| | Clostera curtula | GCA_905475355.1 | Ensembl Genebuild | GTF, GFF3 | FASTA | FASTA | FASTA | Repeatmodeler | FTP dumps | rapid.ensembl.org | BUSCO | rapid.ensembl.org |
| | Clostera curtula | GCA_905475355.2 | Ensembl Genebuild | GTF, GFF3 | FASTA | FASTA | FASTA | Repeatmodeler | FTP dumps | rapid.ensembl.org | BUSCO | – |
| | Coccinella septempunctata | GCA_907165205.1 | Ensembl Genebuild | GTF, GFF3 | FASTA | FASTA | FASTA | Repeatmodeler | FTP dumps | rapid.ensembl.org | BUSCO | rapid.ensembl.org |
| | Colias croceus | GCA_905220415.1 | Ensembl Genebuild | GTF, GFF3 | FASTA | FASTA | FASTA | Repeatmodeler | FTP dumps | rapid.ensembl.org | – | rapid.ensembl.org |
| | Coremacera marginata | GCA_914767935.1 | Ensembl Genebuild | GTF, GFF3 | FASTA | FASTA | FASTA | Repeatmodeler | FTP dumps | rapid.ensembl.org | BUSCO | rapid.ensembl.org |
| | Cosmia trapezina | GCA_905163495.2 | BRAKER2 | GTF, GFF3 | FASTA | FASTA | FASTA | Repeatmodeler | FTP dumps | rapid.ensembl.org | BUSCO | – |
| | Craniophora ligustri | GCA_905163465.1 | Ensembl Genebuild | GTF, GFF3 | FASTA | FASTA | FASTA | Repeatmodeler | FTP dumps | rapid.ensembl.org | BUSCO | rapid.ensembl.org |
| | Criorhina berberina | GCA_917880715.2 | BRAKER2 | GTF, GFF3 | FASTA | FASTA | FASTA | Repeatmodeler | FTP dumps | rapid.ensembl.org | BUSCO | – |
| | Crocallis elinguaria | GCA_907269065.1 | BRAKER2 | GTF, GFF3 | FASTA | FASTA | FASTA | Repeatmodeler | FTP dumps | rapid.ensembl.org | BUSCO | rapid.ensembl.org |
| | Cyaniris semiargus | GCA_905187585.1 | BRAKER2 | GTF, GFF3 | FASTA | FASTA | FASTA | Repeatmodeler | FTP dumps | rapid.ensembl.org | BUSCO | rapid.ensembl.org |
| | Cydia splendana | GCA_910591565.1 | Ensembl Genebuild | GTF, GFF3 | FASTA | FASTA | FASTA | Repeatmodeler | FTP dumps | rapid.ensembl.org | BUSCO | rapid.ensembl.org |
| | Deilephila porcellus | GCA_905220455.2 | BRAKER2 | GTF, GFF3 | FASTA | FASTA | FASTA | – | FTP dumps | rapid.ensembl.org | BUSCO | – |
| | Dolichovespula media | GCA_911387685.1 | Ensembl Genebuild | GTF, GFF3 | FASTA | FASTA | FASTA | Repeatmodeler | FTP dumps | rapid.ensembl.org | BUSCO | – |
| | Dolichovespula saxonica | GCA_911387935.1 | Ensembl Genebuild | GTF, GFF3 | FASTA | FASTA | FASTA | Repeatmodeler | FTP dumps | rapid.ensembl.org | BUSCO | – |
| | Dryobotodes eremita | GCA_917490735.1 | BRAKER2 | GTF, GFF3 | FASTA | FASTA | FASTA | Repeatmodeler | FTP dumps | rapid.ensembl.org | BUSCO | rapid.ensembl.org |
| | Ectemnius continuus | GCA_910591665.1 | Ensembl Genebuild | GTF, GFF3 | FASTA | FASTA | FASTA | Repeatmodeler | FTP dumps | rapid.ensembl.org | BUSCO | rapid.ensembl.org |
| | Ectemnius lituratus | GCA_910593735.1 | Ensembl Genebuild | GTF, GFF3 | FASTA | FASTA | FASTA | Repeatmodeler | FTP dumps | rapid.ensembl.org | BUSCO | – |
| | Ectemnius lituratus | GCA_910593735.2 | Ensembl Genebuild | GTF, GFF3 | FASTA | FASTA | FASTA | Repeatmodeler | FTP dumps | rapid.ensembl.org | BUSCO | – |
| | Eilema depressum | GCA_914767945.1 | BRAKER2 | GTF, GFF3 | FASTA | FASTA | FASTA | Repeatmodeler | FTP dumps | rapid.ensembl.org | BUSCO | rapid.ensembl.org |
| | Eilema sororculum | GCA_914829495.1 | BRAKER2 | GTF, GFF3 | FASTA | FASTA | FASTA | Repeatmodeler | FTP dumps | rapid.ensembl.org | BUSCO | rapid.ensembl.org |
| | Emmelina monodactyla | GCA_916618145.1 | Ensembl Genebuild | GTF, GFF3 | FASTA | FASTA | FASTA | Repeatmodeler | FTP dumps | rapid.ensembl.org | BUSCO | rapid.ensembl.org |
| | Endotricha flammealis | GCA_905163395.2 | BRAKER2 | GTF, GFF3 | FASTA | FASTA | FASTA | Repeatmodeler | FTP dumps | rapid.ensembl.org | BUSCO | – |
| | Ennomos fuscantarius | GCA_905220475.1 | Ensembl Genebuild | GTF, GFF3 | FASTA | FASTA | FASTA | Repeatmodeler | FTP dumps | rapid.ensembl.org | BUSCO | rapid.ensembl.org |
| | Ennomos fuscantarius | GCA_905220475.2 | Ensembl Genebuild | GTF, GFF3 | FASTA | FASTA | FASTA | Repeatmodeler | FTP dumps | rapid.ensembl.org | BUSCO | – |
| | Ennomos quercinarius | GCA_910589525.1 | Ensembl Genebuild | GTF, GFF3 | FASTA | FASTA | FASTA | Repeatmodeler | FTP dumps | rapid.ensembl.org | BUSCO | rapid.ensembl.org |
| | Erannis defoliaria | GCA_905404285.1 | BRAKER2 | GTF, GFF3 | FASTA | FASTA | FASTA | Repeatmodeler | FTP dumps | rapid.ensembl.org | BUSCO | rapid.ensembl.org |
| | Erebia ligea | GCA_917051295.2 | BRAKER2 | GTF, GFF3 | FASTA | FASTA | FASTA | Repeatmodeler | FTP dumps | rapid.ensembl.org | BUSCO | rapid.ensembl.org |
| | Eristalis arbustorum | GCA_916610145.1 | Ensembl Genebuild | GTF, GFF3 | FASTA | FASTA | FASTA | Repeatmodeler | FTP dumps | rapid.ensembl.org | BUSCO | rapid.ensembl.org |
| | Eristalis pertinax | GCA_907269125.1 | Ensembl Genebuild | GTF, GFF3 | FASTA | FASTA | FASTA | Repeatmodeler | FTP dumps | rapid.ensembl.org | BUSCO | rapid.ensembl.org |
| | Eristalis tenax | GCA_905231855.1 | Ensembl Genebuild | GTF, GFF3 | FASTA | FASTA | FASTA | Repeatmodeler | FTP dumps | rapid.ensembl.org | BUSCO | rapid.ensembl.org |
| | Eristalis tenax | GCA_905231855.2 | Ensembl Genebuild | GTF, GFF3 | FASTA | FASTA | FASTA | Repeatmodeler | FTP dumps | rapid.ensembl.org | BUSCO | – |
| | Erynnis tages | GCA_905147235.1 | BRAKER2 | GTF, GFF3 | FASTA | FASTA | FASTA | Repeatmodeler | FTP dumps | rapid.ensembl.org | BUSCO | rapid.ensembl.org |
| | Eulithis prunata | GCA_918843925.1 | BRAKER2 | GTF, GFF3 | FASTA | FASTA | FASTA | Repeatmodeler | FTP dumps | rapid.ensembl.org | BUSCO | – |
| | Eupeodes latifasciatus | GCA_920104205.1 | Ensembl Genebuild | GTF, GFF3 | FASTA | FASTA | FASTA | Repeatmodeler | FTP dumps | rapid.ensembl.org | BUSCO | rapid.ensembl.org |
| | Euproctis similis | GCA_905147225.1 | Ensembl Genebuild | GTF, GFF3 | FASTA | FASTA | FASTA | Repeatmodeler | FTP dumps | rapid.ensembl.org | BUSCO | – |
| | Euproctis similis | GCA_905147225.2 | Ensembl Genebuild | GTF, GFF3 | FASTA | FASTA | FASTA | Repeatmodeler | FTP dumps | rapid.ensembl.org | BUSCO | – |
| | Eupsilia transversa | GCA_914767815.1 | BRAKER2 | GTF, GFF3 | FASTA | FASTA | FASTA | Repeatmodeler | FTP dumps | rapid.ensembl.org | BUSCO | rapid.ensembl.org |
| | Fabriciana adippe | GCA_905404265.1 | Ensembl Genebuild | GTF, GFF3 | FASTA | FASTA | FASTA | Repeatmodeler | FTP dumps | rapid.ensembl.org | BUSCO | rapid.ensembl.org |
| | Furcula furcula | GCA_911728495.1 | BRAKER2 | GTF, GFF3 | FASTA | FASTA | FASTA | Repeatmodeler | FTP dumps | rapid.ensembl.org | BUSCO | – |
| | Glaucopsyche alexis | GCA_905404095.1 | BRAKER2 | GTF, GFF3 | FASTA | FASTA | FASTA | Repeatmodeler | FTP dumps | rapid.ensembl.org | BUSCO | rapid.ensembl.org |
| | Griposia aprilina | GCA_916610205.1 | BRAKER2 | GTF, GFF3 | FASTA | FASTA | FASTA | Repeatmodeler | FTP dumps | rapid.ensembl.org | BUSCO | rapid.ensembl.org |
| | Gymnosoma rotundatum | GCA_916610165.1 | Ensembl Genebuild | GTF, GFF3 | FASTA | FASTA | FASTA | Repeatmodeler | FTP dumps | rapid.ensembl.org | BUSCO | rapid.ensembl.org |
| | Gymnosoma rotundatum | GCA_916610165.2 | Ensembl Genebuild | GTF, GFF3 | FASTA | FASTA | FASTA | Repeatmodeler | FTP dumps | rapid.ensembl.org | BUSCO | rapid.ensembl.org |
| | Habrosyne pyritoides | GCA_907165245.1 | BRAKER2 | GTF, GFF3 | FASTA | FASTA | FASTA | Repeatmodeler | FTP dumps | rapid.ensembl.org | BUSCO | rapid.ensembl.org |
| | Hecatera dysodea | GCA_905332915.1 | Ensembl Genebuild | GTF, GFF3 | FASTA | FASTA | FASTA | Repeatmodeler | FTP dumps | rapid.ensembl.org | BUSCO | – |
| | Hecatera dysodea | GCA_905332915.2 | Ensembl Genebuild | GTF, GFF3 | FASTA | FASTA | FASTA | Repeatmodeler | FTP dumps | rapid.ensembl.org | BUSCO | – |
| | Hedya salicella | GCA_905404275.1 | Ensembl Genebuild | GTF, GFF3 | FASTA | FASTA | FASTA | Repeatmodeler | FTP dumps | rapid.ensembl.org | BUSCO | rapid.ensembl.org |
| | Hemaris fuciformis | GCA_907164795.1 | Ensembl Genebuild | GTF, GFF3 | FASTA | FASTA | FASTA | Repeatmodeler | FTP dumps | rapid.ensembl.org | BUSCO | rapid.ensembl.org |
| | Hesperia comma | GCA_905404135.1 | BRAKER2 | GTF, GFF3 | FASTA | FASTA | FASTA | Repeatmodeler | FTP dumps | rapid.ensembl.org | BUSCO | rapid.ensembl.org |
| | Hydraecia micacea | GCA_914767645.1 | BRAKER2 | GTF, GFF3 | FASTA | FASTA | FASTA | Repeatmodeler | FTP dumps | rapid.ensembl.org | BUSCO | rapid.ensembl.org |
| | Hydriomena furcata | GCA_912999785.1 | BRAKER2 | GTF, GFF3 | FASTA | FASTA | FASTA | Repeatmodeler | FTP dumps | rapid.ensembl.org | BUSCO | rapid.ensembl.org |
| | Hylaea fasciaria | GCA_905147375.1 | BRAKER2 | GTF, GFF3 | FASTA | FASTA | FASTA | Repeatmodeler | FTP dumps | rapid.ensembl.org | BUSCO | rapid.ensembl.org |
| | Hypena proboscidalis | GCA_905147285.1 | Ensembl Genebuild | GTF, GFF3 | FASTA | FASTA | FASTA | Repeatmodeler | FTP dumps | rapid.ensembl.org | BUSCO | rapid.ensembl.org |
| | Ichneumon xanthorius | GCA_917499995.1 | Ensembl Genebuild | GTF, GFF3 | FASTA | FASTA | FASTA | Repeatmodeler | FTP dumps | rapid.ensembl.org | BUSCO | rapid.ensembl.org |
| | Idaea aversata | GCA_907269075.1 | Ensembl Genebuild | GTF, GFF3 | FASTA | FASTA | FASTA | Repeatmodeler | FTP dumps | rapid.ensembl.org | BUSCO | rapid.ensembl.org |
| | Inachis io | GCA_905147045.1 | Ensembl Genebuild | GTF, GFF3 | FASTA | FASTA | FASTA | Repeatmodeler | FTP dumps | rapid.ensembl.org | BUSCO | rapid.ensembl.org |
| | Laothoe populi | GCA_905220505.1 | BRAKER2 | GTF, GFF3 | FASTA | FASTA | FASTA | Repeatmodeler | FTP dumps | rapid.ensembl.org | BUSCO | rapid.ensembl.org |
| | Lasioglossum lativentre | GCA_916610255.1 | Ensembl Genebuild | GTF, GFF3 | FASTA | FASTA | FASTA | Repeatmodeler | FTP dumps | rapid.ensembl.org | BUSCO | – |
| | Lasioglossum morio | GCA_916610235.2 | Ensembl Genebuild | GTF, GFF3 | FASTA | FASTA | FASTA | Repeatmodeler | FTP dumps | rapid.ensembl.org | BUSCO | – |
| | Laspeyria flexula | GCA_905147015.1 | Ensembl Genebuild | GTF, GFF3 | FASTA | FASTA | FASTA | Repeatmodeler | FTP dumps | rapid.ensembl.org | BUSCO | rapid.ensembl.org |
| | Leptidea sinapis | GCA_905404315.1 | Ensembl Genebuild | GTF, GFF3 | FASTA | FASTA | FASTA | Repeatmodeler | FTP dumps | rapid.ensembl.org | BUSCO | rapid.ensembl.org |
| | Limenitis camilla | GCA_905147385.1 | Ensembl Genebuild | GTF, GFF3 | FASTA | FASTA | FASTA | Repeatmodeler | FTP dumps | rapid.ensembl.org | BUSCO | rapid.ensembl.org |
| | Lineus longissimus | GCA_910592395.2 | Ensembl Genebuild | GTF, GFF3 | FASTA | FASTA | FASTA | – | FTP dumps | rapid.ensembl.org | BUSCO | rapid.ensembl.org |
| | Lycaena phlaeas | GCA_905333005.1 | Ensembl Genebuild | GTF, GFF3 | FASTA | FASTA | FASTA | Repeatmodeler | FTP dumps | rapid.ensembl.org | BUSCO | rapid.ensembl.org |
| | Lymantria monacha | GCA_905163515.2 | Ensembl Genebuild | GTF, GFF3 | FASTA | FASTA | FASTA | Repeatmodeler | FTP dumps | rapid.ensembl.org | BUSCO | – |
| | Lysandra bellargus | GCA_905333045.1 | Ensembl Genebuild | GTF, GFF3 | FASTA | FASTA | FASTA | Repeatmodeler | FTP dumps | rapid.ensembl.org | BUSCO | rapid.ensembl.org |
| | Lysandra coridon | GCA_905220515.1 | Ensembl Genebuild | GTF, GFF3 | FASTA | FASTA | FASTA | Repeatmodeler | FTP dumps | rapid.ensembl.org | BUSCO | rapid.ensembl.org |
| | Macropis europaea | GCA_916610135.1 | Ensembl Genebuild | GTF, GFF3 | FASTA | FASTA | FASTA | Repeatmodeler | FTP dumps | rapid.ensembl.org | BUSCO | – |
| | Malachius bipustulatus | GCA_910589415.1 | BRAKER2 | GTF, GFF3 | FASTA | FASTA | FASTA | Repeatmodeler | FTP dumps | rapid.ensembl.org | BUSCO | rapid.ensembl.org |
| | Mamestra brassicae | GCA_905163435.1 | Ensembl Genebuild | GTF, GFF3 | FASTA | FASTA | FASTA | Repeatmodeler | FTP dumps | rapid.ensembl.org | BUSCO | – |
| | Maniola hyperantus | GCA_902806685.2 | Ensembl Genebuild | GTF, GFF3 | FASTA | FASTA | FASTA | Repeatmodeler | FTP dumps | rapid.ensembl.org | BUSCO | – |
| | Maniola jurtina | GCA_905333055.1 | Ensembl Genebuild | GTF, GFF3 | FASTA | FASTA | FASTA | Repeatmodeler | FTP dumps | rapid.ensembl.org | BUSCO | rapid.ensembl.org |
| | Melanargia galathea | GCA_920104075.1 | Ensembl Genebuild | GTF, GFF3 | FASTA | FASTA | FASTA | Repeatmodeler | FTP dumps | rapid.ensembl.org | BUSCO | rapid.ensembl.org |
| | Melanostoma mellinum | GCA_914767635.1 | Ensembl Genebuild | GTF, GFF3 | FASTA | FASTA | FASTA | Repeatmodeler | FTP dumps | rapid.ensembl.org | BUSCO | rapid.ensembl.org |
| | Melitaea cinxia | GCA_905220565.1 | Ensembl Genebuild | GTF, GFF3 | FASTA | FASTA | FASTA | Repeatmodeler | FTP dumps | rapid.ensembl.org | BUSCO | rapid.ensembl.org |
| | Mellicta athalia | GCA_905220545.1 | Ensembl Genebuild | GTF, GFF3 | FASTA | FASTA | FASTA | Repeatmodeler | FTP dumps | rapid.ensembl.org | BUSCO | rapid.ensembl.org |
| | Mesoligia furuncula | GCA_916614155.1 | BRAKER2 | GTF, GFF3 | FASTA | FASTA | FASTA | Repeatmodeler | FTP dumps | rapid.ensembl.org | BUSCO | rapid.ensembl.org |
| | Mimas tiliae | GCA_905332985.1 | BRAKER2 | GTF, GFF3 | FASTA | FASTA | FASTA | Repeatmodeler | FTP dumps | rapid.ensembl.org | BUSCO | rapid.ensembl.org |
| | Mimumesa dahlbomi | GCA_917499265.1 | BRAKER2 | GTF, GFF3 | FASTA | FASTA | FASTA | Repeatmodeler | FTP dumps | rapid.ensembl.org | BUSCO | – |
| | Myathropa florea | GCA_930367185.1 | BRAKER2 | GTF, GFF3 | FASTA | FASTA | FASTA | Repeatmodeler | FTP dumps | rapid.ensembl.org | BUSCO | rapid.ensembl.org |
| | Mythimna ferrago | GCA_910589285.1 | Ensembl Genebuild | GTF, GFF3 | FASTA | FASTA | FASTA | Repeatmodeler | FTP dumps | rapid.ensembl.org | BUSCO | rapid.ensembl.org |
| | Mythimna ferrago | GCA_910589285.2 | Ensembl Genebuild | GTF, GFF3 | FASTA | FASTA | FASTA | Repeatmodeler | FTP dumps | rapid.ensembl.org | BUSCO | rapid.ensembl.org |
| | Mythimna impura | GCA_905147345.1 | Ensembl Genebuild | GTF, GFF3 | FASTA | FASTA | FASTA | Repeatmodeler | FTP dumps | rapid.ensembl.org | BUSCO | rapid.ensembl.org |
| | Mythimna impura | GCA_905147345.2 | Ensembl Genebuild | GTF, GFF3 | FASTA | FASTA | FASTA | Repeatmodeler | FTP dumps | rapid.ensembl.org | BUSCO | – |
| | Noctua fimbriata | GCA_905163415.1 | BRAKER2 | GTF, GFF3 | FASTA | FASTA | FASTA | Repeatmodeler | FTP dumps | rapid.ensembl.org | BUSCO | rapid.ensembl.org |
| | Noctua janthe | GCA_910589295.1 | BRAKER2 | GTF, GFF3 | FASTA | FASTA | FASTA | Repeatmodeler | FTP dumps | rapid.ensembl.org | BUSCO | rapid.ensembl.org |
| | Noctua pronuba | GCA_905220335.1 | BRAKER2 | GTF, GFF3 | FASTA | FASTA | FASTA | Repeatmodeler | FTP dumps | rapid.ensembl.org | BUSCO | rapid.ensembl.org |
| | Nomada fabriciana | GCA_907165295.1 | Ensembl Genebuild | GTF, GFF3 | FASTA | FASTA | FASTA | Repeatmodeler | FTP dumps | rapid.ensembl.org | BUSCO | rapid.ensembl.org |
| | Notocelia uddmanniana | GCA_905163555.1 | BRAKER2 | GTF, GFF3 | FASTA | FASTA | FASTA | Repeatmodeler | FTP dumps | rapid.ensembl.org | BUSCO | rapid.ensembl.org |
| | Notodonta dromedarius | GCA_905147325.1 | Ensembl Genebuild | GTF, GFF3 | FASTA | FASTA | FASTA | Repeatmodeler | FTP dumps | rapid.ensembl.org | BUSCO | rapid.ensembl.org |
| | Nymphalis polychloros | GCA_905220585.1 | Ensembl Genebuild | GTF, GFF3 | FASTA | FASTA | FASTA | Repeatmodeler | FTP dumps | rapid.ensembl.org | BUSCO | rapid.ensembl.org |
| | Nymphalis polychloros | GCA_905220585.2 | Ensembl Genebuild | GTF, GFF3 | FASTA | FASTA | FASTA | Repeatmodeler | FTP dumps | rapid.ensembl.org | BUSCO | – |
| | Nymphalis urticae | GCA_905147175.1 | Ensembl Genebuild | GTF, GFF3 | FASTA | FASTA | FASTA | Repeatmodeler | FTP dumps | rapid.ensembl.org | BUSCO | rapid.ensembl.org |
| | Nymphalis urticae | GCA_905147175.2 | Ensembl Genebuild | GTF, GFF3 | FASTA | FASTA | FASTA | Repeatmodeler | FTP dumps | rapid.ensembl.org | BUSCO | – |
| | Nysson spinosus | GCA_910591585.1 | Ensembl Genebuild | GTF, GFF3 | FASTA | FASTA | FASTA | Repeatmodeler | FTP dumps | rapid.ensembl.org | BUSCO | rapid.ensembl.org |
| | Ochlodes sylvanus | GCA_905404295.1 | Ensembl Genebuild | GTF, GFF3 | FASTA | FASTA | FASTA | Repeatmodeler | FTP dumps | rapid.ensembl.org | BUSCO | rapid.ensembl.org |
| | Ochropleura plecta | GCA_905475445.1 | BRAKER2 | GTF, GFF3 | FASTA | FASTA | FASTA | Repeatmodeler | FTP dumps | rapid.ensembl.org | BUSCO | rapid.ensembl.org |
| | Ocypus olens | GCA_910593695.1 | Ensembl Genebuild | GTF, GFF3 | FASTA | FASTA | FASTA | Repeatmodeler | FTP dumps | rapid.ensembl.org | BUSCO | rapid.ensembl.org |
| | Omphaloscelis lunosa | GCA_916610215.1 | BRAKER2 | GTF, GFF3 | FASTA | FASTA | FASTA | Repeatmodeler | FTP dumps | rapid.ensembl.org | BUSCO | rapid.ensembl.org |
| | Orgyia antiqua | GCA_916999025.1 | Ensembl Genebuild | GTF, GFF3 | FASTA | FASTA | FASTA | Repeatmodeler | FTP dumps | rapid.ensembl.org | BUSCO | rapid.ensembl.org |
| | Osmia bicornis bicornis | GCA_907164935.1 | Ensembl Genebuild | GTF, GFF3 | FASTA | FASTA | FASTA | Repeatmodeler | FTP dumps | rapid.ensembl.org | – | rapid.ensembl.org |
| | Pammene fasciana | GCA_911728535.1 | BRAKER2 | GTF, GFF3 | FASTA | FASTA | FASTA | Repeatmodeler | FTP dumps | rapid.ensembl.org | BUSCO | – |
| | Papilio machaon | GCA_912999745.1 | Ensembl Genebuild | GTF, GFF3 | FASTA | FASTA | FASTA | Repeatmodeler | FTP dumps | rapid.ensembl.org | BUSCO | rapid.ensembl.org |
| | Parapoynx stratiotata | GCA_910589355.1 | Ensembl Genebuild | GTF, GFF3 | FASTA | FASTA | FASTA | Repeatmodeler | FTP dumps | rapid.ensembl.org | BUSCO | rapid.ensembl.org |
| | Pararge aegeria | GCA_905163445.1 | Ensembl Genebuild | GTF, GFF3 | FASTA | FASTA | FASTA | Repeatmodeler | FTP dumps | rapid.ensembl.org | BUSCO | rapid.ensembl.org |
| | Patella pellucida | GCA_917208275.1 | Ensembl Genebuild | GTF, GFF3 | FASTA | FASTA | FASTA | Repeatmodeler | FTP dumps | rapid.ensembl.org | BUSCO | – |
| | Peribatodes rhomboidaria | GCA_911728515.1 | BRAKER2 | GTF, GFF3 | FASTA | FASTA | FASTA | Repeatmodeler | FTP dumps | rapid.ensembl.org | BUSCO | rapid.ensembl.org |
| | Phalera bucephala | GCA_905147815.2 | Ensembl Genebuild | GTF, GFF3 | FASTA | FASTA | FASTA | Repeatmodeler | FTP dumps | rapid.ensembl.org | BUSCO | rapid.ensembl.org |
| | Pheosia gnoma | GCA_905404115.1 | Ensembl Genebuild | GTF, GFF3 | FASTA | FASTA | FASTA | Repeatmodeler | FTP dumps | rapid.ensembl.org | BUSCO | rapid.ensembl.org |
| | Pheosia tremula | GCA_905333125.1 | Ensembl Genebuild | GTF, GFF3 | FASTA | FASTA | FASTA | Repeatmodeler | FTP dumps | rapid.ensembl.org | BUSCO | rapid.ensembl.org |
| | Phlogophora meticulosa | GCA_905147745.1 | Ensembl Genebuild | GTF, GFF3 | FASTA | FASTA | FASTA | Repeatmodeler | FTP dumps | rapid.ensembl.org | BUSCO | rapid.ensembl.org |
| | Pieris brassicae | GCA_905147105.1 | Ensembl Genebuild | GTF, GFF3 | FASTA | FASTA | FASTA | Repeatmodeler | FTP dumps | rapid.ensembl.org | BUSCO | rapid.ensembl.org |
| | Pieris napi | GCA_905231885.1 | Ensembl Genebuild | GTF, GFF3 | FASTA | FASTA | FASTA | Repeatmodeler | FTP dumps | rapid.ensembl.org | BUSCO | rapid.ensembl.org |
| | Pieris napi | GCA_905475465.1 | Ensembl Genebuild | GTF, GFF3 | FASTA | FASTA | FASTA | Repeatmodeler | FTP dumps | rapid.ensembl.org | BUSCO | rapid.ensembl.org |
| | Pieris napi | GCA_905475465.2 | Ensembl Genebuild | GTF, GFF3 | FASTA | FASTA | FASTA | Repeatmodeler | FTP dumps | rapid.ensembl.org | BUSCO | – |
| | Pieris rapae | GCA_905147795.1 | Ensembl Genebuild | GTF, GFF3 | FASTA | FASTA | FASTA | Repeatmodeler | FTP dumps | rapid.ensembl.org | BUSCO | rapid.ensembl.org |
| | Platycheirus albimanus | GCA_916050605.1 | Ensembl Genebuild | GTF, GFF3 | FASTA | FASTA | FASTA | Repeatmodeler | FTP dumps | rapid.ensembl.org | BUSCO | rapid.ensembl.org |
| | Platycheirus albimanus | GCA_916050605.2 | Ensembl Genebuild | GTF, GFF3 | FASTA | FASTA | FASTA | Repeatmodeler | FTP dumps | rapid.ensembl.org | BUSCO | – |
| | Plebejus argus | GCA_905404155.1 | Ensembl Genebuild | GTF, GFF3 | FASTA | FASTA | FASTA | Repeatmodeler | FTP dumps | rapid.ensembl.org | BUSCO | rapid.ensembl.org |
| | Plebejus argus | GCA_905404155.2 | Ensembl Genebuild | GTF, GFF3 | FASTA | FASTA | FASTA | Repeatmodeler | FTP dumps | rapid.ensembl.org | BUSCO | – |
| | Pollenia angustigena | GCA_930367215.1 | Ensembl Genebuild | GTF, GFF3 | FASTA | FASTA | FASTA | Repeatmodeler | FTP dumps | rapid.ensembl.org | BUSCO | rapid.ensembl.org |
| | Pterostichus madidus | GCA_911728475.1 | Ensembl Genebuild | GTF, GFF3 | FASTA | FASTA | FASTA | Repeatmodeler | FTP dumps | rapid.ensembl.org | BUSCO | rapid.ensembl.org |
| | Pterostichus madidus | GCA_911728475.2 | Ensembl Genebuild | GTF, GFF3 | FASTA | FASTA | FASTA | Repeatmodeler | FTP dumps | rapid.ensembl.org | BUSCO | – |
| | Ptilodon capucinus | GCA_914767695.1 | BRAKER2 | GTF, GFF3 | FASTA | FASTA | FASTA | Repeatmodeler | FTP dumps | rapid.ensembl.org | BUSCO | rapid.ensembl.org |
| | Pyrgus malvae | GCA_911387765.1 | Ensembl Genebuild | GTF, GFF3 | FASTA | FASTA | FASTA | Repeatmodeler | FTP dumps | rapid.ensembl.org | BUSCO | rapid.ensembl.org |
| | Pyrochroa serraticornis | GCA_905333025.2 | BRAKER2 | GTF, GFF3 | FASTA | FASTA | FASTA | Repeatmodeler | FTP dumps | rapid.ensembl.org | BUSCO | – |
| | Rana temporaria | GCA_905171775.1 | Ensembl Genebuild | GTF, GFF3 | FASTA | FASTA | FASTA | Repeatmodeler | FTP dumps | rapid.ensembl.org | – | – |
| | Rattus norvegicus (BN/NHsdMcwi) | GCA_015227675.2 | Ensembl Genebuild | GTF, GFF3 | FASTA | FASTA | FASTA | Repeatmodeler | FTP dumps | ensembl.org | BUSCO | – |
| | Rhagonycha fulva | GCA_905340355.1 | Ensembl Genebuild | GTF, GFF3 | FASTA | FASTA | FASTA | Repeatmodeler | FTP dumps | rapid.ensembl.org | BUSCO | rapid.ensembl.org |
| | Salmo trutta | GCA_901001165.1 | Ensembl genebuild | GTF, GFF3 | FASTA | FASTA | FASTA | Repeatmodeler | FTP dumps | ensembl.org | BUSCO | – |
| | Sarcophaga caerulescens | GCA_927399465.1 | Ensembl Genebuild | GTF, GFF3 | FASTA | FASTA | FASTA | Repeatmodeler | FTP dumps | rapid.ensembl.org | BUSCO | rapid.ensembl.org |
| | Sarcophaga rosellei | GCA_930367235.1 | Ensembl Genebuild | GTF, GFF3 | FASTA | FASTA | FASTA | Repeatmodeler | FTP dumps | rapid.ensembl.org | BUSCO | rapid.ensembl.org |
| | Scaeva pyrastri | GCA_905146935.1 | Ensembl Genebuild | GTF, GFF3 | FASTA | FASTA | FASTA | Repeatmodeler | FTP dumps | rapid.ensembl.org | BUSCO | rapid.ensembl.org |
| | Schrankia costaestrigalis | GCA_905475405.1 | BRAKER2 | GTF, GFF3 | FASTA | FASTA | FASTA | Repeatmodeler | FTP dumps | rapid.ensembl.org | BUSCO | rapid.ensembl.org |
| | Sciurus carolinensis | GCA_902686445.2 | Ensembl Genebuild | GTF, GFF3 | FASTA | FASTA | FASTA | Repeatmodeler | FTP dumps | rapid.ensembl.org | BUSCO | – |
| | Sciurus vulgaris | GCA_902686455.1 | Ensembl Genebuild | GTF, GFF3 | FASTA | FASTA | FASTA | Repeatmodeler | FTP dumps | ensembl.org | BUSCO | – |
| | Sciurus vulgaris | GCA_902686455.2 | Ensembl Genebuild | GTF, GFF3 | FASTA | FASTA | FASTA | Repeatmodeler | FTP dumps | rapid.ensembl.org | BUSCO | – |
| | Seladonia tumulorum | GCA_913789895.3 | BRAKER2 | GTF, GFF3 | FASTA | FASTA | FASTA | – | FTP dumps | rapid.ensembl.org | BUSCO | – |
| | Sesia apiformis | GCA_914767545.1 | BRAKER2 | GTF, GFF3 | FASTA | FASTA | FASTA | Repeatmodeler | FTP dumps | rapid.ensembl.org | BUSCO | rapid.ensembl.org |
| | Sphecodes monilicornis | GCA_913789915.3 | Ensembl Genebuild | GTF, GFF3 | FASTA | FASTA | FASTA | Repeatmodeler | FTP dumps | rapid.ensembl.org | BUSCO | – |
| | Spilarctia lutea | GCA_916048165.1 | BRAKER2 | GTF, GFF3 | FASTA | FASTA | FASTA | Repeatmodeler | FTP dumps | rapid.ensembl.org | BUSCO | rapid.ensembl.org |
| | Spilosoma lubricipeda | GCA_905220595.1 | BRAKER2 | GTF, GFF3 | FASTA | FASTA | FASTA | Repeatmodeler | FTP dumps | rapid.ensembl.org | BUSCO | rapid.ensembl.org |
| | Syritta pipiens | GCA_905187475.1 | Ensembl Genebuild | GTF, GFF3 | FASTA | FASTA | FASTA | Repeatmodeler | FTP dumps | rapid.ensembl.org | BUSCO | rapid.ensembl.org |
| | Tachina fera | GCA_905220375.1 | Ensembl Genebuild | GTF, GFF3 | FASTA | FASTA | FASTA | Repeatmodeler | FTP dumps | rapid.ensembl.org | BUSCO | rapid.ensembl.org |
| | Tenthredo notha | GCA_914767705.1 | Ensembl Genebuild | GTF, GFF3 | FASTA | FASTA | FASTA | Repeatmodeler | FTP dumps | rapid.ensembl.org | BUSCO | rapid.ensembl.org |
| | Tenthredo notha | GCA_914767705.2 | Ensembl Genebuild | GTF, GFF3 | FASTA | FASTA | FASTA | Repeatmodeler | FTP dumps | rapid.ensembl.org | BUSCO | – |
| | Thecocarcelia acutangulata | GCA_914767995.1 | BRAKER2 | GTF, GFF3 | FASTA | FASTA | FASTA | Repeatmodeler | FTP dumps | rapid.ensembl.org | BUSCO | rapid.ensembl.org |
| | Thyatira batis | GCA_905147785.1 | Ensembl Genebuild | GTF, GFF3 | FASTA | FASTA | FASTA | Repeatmodeler | FTP dumps | rapid.ensembl.org | BUSCO | rapid.ensembl.org |
| | Thymelicus sylvestris | GCA_911387775.1 | Ensembl Genebuild | GTF, GFF3 | FASTA | FASTA | FASTA | Repeatmodeler | FTP dumps | rapid.ensembl.org | BUSCO | rapid.ensembl.org |
| | Tinea semifulvella | GCA_910589645.1 | Ensembl Genebuild | GTF, GFF3 | FASTA | FASTA | FASTA | Repeatmodeler | FTP dumps | rapid.ensembl.org | BUSCO | rapid.ensembl.org |
| | Tinea trinotella | GCA_905220615.1 | Ensembl Genebuild | GTF, GFF3 | FASTA | FASTA | FASTA | Repeatmodeler | FTP dumps | rapid.ensembl.org | BUSCO | rapid.ensembl.org |
| | Trachurus trachurus | GCA_905171665.1 | Ensembl Genebuild | GTF, GFF3 | FASTA | FASTA | FASTA | Repeatmodeler | FTP dumps | rapid.ensembl.org | BUSCO | – |
| | Vanessa atalanta | GCA_905147765.1 | Ensembl Genebuild | GTF, GFF3 | FASTA | FASTA | FASTA | Repeatmodeler | FTP dumps | rapid.ensembl.org | BUSCO | rapid.ensembl.org |
| | Vanessa atalanta | GCA_905147765.2 | Ensembl Genebuild | GTF, GFF3 | FASTA | FASTA | FASTA | Repeatmodeler | FTP dumps | rapid.ensembl.org | BUSCO | rapid.ensembl.org |
| | Vanessa cardui | GCA_905220365.1 | Ensembl Genebuild | GTF, GFF3 | FASTA | FASTA | FASTA | Repeatmodeler | FTP dumps | rapid.ensembl.org | BUSCO | rapid.ensembl.org |
| | Vespa crabro | GCA_910589235.2 | Ensembl Genebuild | GTF, GFF3 | FASTA | FASTA | FASTA | Repeatmodeler | FTP dumps | rapid.ensembl.org | BUSCO | – |
| | Vespa velutina | GCA_912470025.1 | Ensembl Genebuild | GTF, GFF3 | FASTA | FASTA | FASTA | Repeatmodeler | FTP dumps | rapid.ensembl.org | BUSCO | – |
| | Vespula germanica | GCA_905340365.1 | Ensembl Genebuild | GTF, GFF3 | FASTA | FASTA | FASTA | Repeatmodeler | FTP dumps | rapid.ensembl.org | BUSCO | rapid.ensembl.org |
| | Vespula vulgaris | GCA_905475345.1 | Ensembl Genebuild | GTF, GFF3 | FASTA | FASTA | FASTA | Repeatmodeler | FTP dumps | rapid.ensembl.org | BUSCO | rapid.ensembl.org |
| | Volucella inanis | GCA_907269105.1 | Ensembl Genebuild | GTF, GFF3 | FASTA | FASTA | FASTA | Repeatmodeler | FTP dumps | rapid.ensembl.org | BUSCO | rapid.ensembl.org |
| | Volucella inflata | GCA_928272305.1 | Ensembl Genebuild | GTF, GFF3 | FASTA | FASTA | FASTA | Repeatmodeler | FTP dumps | rapid.ensembl.org | BUSCO | rapid.ensembl.org |
| | Xanthogramma pedissequum | GCA_910595825.1 | BRAKER2 | GTF, GFF3 | FASTA | FASTA | FASTA | Repeatmodeler | FTP dumps | rapid.ensembl.org | BUSCO | rapid.ensembl.org |
| | Xestia xanthographa | GCA_905147715.1 | Ensembl Genebuild | GTF, GFF3 | FASTA | FASTA | FASTA | Repeatmodeler | FTP dumps | rapid.ensembl.org | BUSCO | rapid.ensembl.org |
| | Xestia xanthographa | GCA_905147715.2 | Ensembl Genebuild | GTF, GFF3 | FASTA | FASTA | FASTA | Repeatmodeler | FTP dumps | rapid.ensembl.org | BUSCO | rapid.ensembl.org |
| | Xylota sylvarum | GCA_905220385.1 | Ensembl Genebuild | GTF, GFF3 | FASTA | FASTA | FASTA | Repeatmodeler | FTP dumps | rapid.ensembl.org | BUSCO | rapid.ensembl.org |
| | Ypsolopha scabrella | GCA_910592155.1 | BRAKER2 | GTF, GFF3 | FASTA | FASTA | FASTA | Repeatmodeler | FTP dumps | rapid.ensembl.org | BUSCO | rapid.ensembl.org |
| | Zeuzera pyrina | GCA_907165235.1 | BRAKER2 | GTF, GFF3 | FASTA | FASTA | FASTA | Repeatmodeler | FTP dumps | rapid.ensembl.org | BUSCO | rapid.ensembl.org |
| | Zygaena filipendulae | GCA_907165275.1 | Ensembl Genebuild | GTF, GFF3 | FASTA | FASTA | FASTA | Repeatmodeler | FTP dumps | rapid.ensembl.org | BUSCO | rapid.ensembl.org |