AQUA-FAANG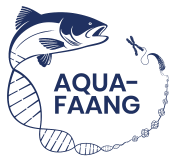 AQUA-FAANG is a European project that aims to improve understanding of genome function and exploitation of genotype-to-phenotype prediction in the six most important European farmed fish species.
The project brings together world-leading interdisciplinary expertise and industry partners providing direct pathways to commercial exploitation. AQUA-FAANG will functionally annotate the genomes of all six species, employing standardized experimental assays and analysis pipelines defined by the FAANG initiative. Datasets will be shared and coordinated with other FAANG initiatives via the FAANG data coordination centre.
Ensembl is a partner in the AQUA-FAANG project, and we annotate the protein-coding and non-coding RNA gene structures using a re-engineered version of our Gene Annotation System (Aken et al, 2017). After QC, genomes and annotations are made available via our FTP site (see table below) before subsequently being made available in the Ensembl Genome Browser. Data for other species-of-interest for this project, e.g., Danio rerio (Zebrafish), are accessible below.